Description
Furniture combination lock and handle knob made of metal and plastic 14.08.241
Application:

Sturdy furniture combination lock made of metal and plastic, black matt, for wooden cabinet, steel cabinet, drawer, locker.
The furniture combination locks 14.08.241 with handle function are stable and robust and can be used for convenient closing of cabinet doors made of wood or sheet metal, as well as for drawers.
They are suitable for sheet metal with a thickness of 0.8 to 1 mm, as well as for wooden doors with a thickness of 14 to 19 mm.
The special feature of this furniture combination lock is that it can also serve as a small handle button.
The corresponding master key J13 (14.04.123-5, see below, to be ordered separately) is also available and allows the door to be opened without a combination of numbers.
It is also possible to find out a forgotten combination of numbers using master keys.
The combination of numbers can be changed each time the lock is opened.
The high quality furniture combination locks 14.08.241 are ideal for:
Wooden cabinet
Steel cabinet
Drawer
Locker
Locker
Tin cabinet
School locker
Unilockerd
Locker cabinet
School furniture
Hospital furniture
Office furniture
Mailbox
Shopfitting
Material:
The high-quality furniture combination locks 14.08.241 are made of metal and robust plastic
Surface:
Assembly:
For installation, a cut-out measuring 73.5 mm (2-29/32″) x 20.5 mm (26/32″) must be made in the door
When mounted on sheet metal, the furniture combination locks 14.08.241 are simply clipped into the cut-out in the door
For installation in wooden doors, an additional mounting plate (14.08.245, see below, to order separately) is necessary. The assembly is carried out with the screws supplied with the mounting plate
The latch is fixed to the lock after the lock has been installed using the screw and washer included in the scope of delivery
The furniture combination locks 14.08.241 are suitable for horizontal mounting (for further details see
mounting drawing
)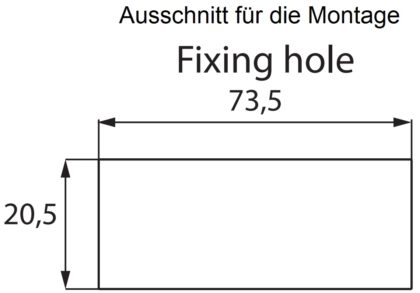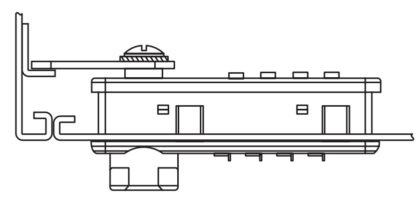 Features:
Size: 77 mm (3.1″)
For sheet metal with thickness from 0.8 to 1 mm
For wooden doors with thickness 14 to 19 mm
Robust
Simple design
Lock and handle in one
Made of metal and plastic
Black Matt
High brand quality from UMAXO®
Dimensions:
For further dimensions and details see technical drawing .
Furniture combination lock width: 77 mm (3-1/32″)
Height: 24 mm (30/32″)
Depth 13.5 mm (17/32″)
Bar length: 40 mm (1-18/32″)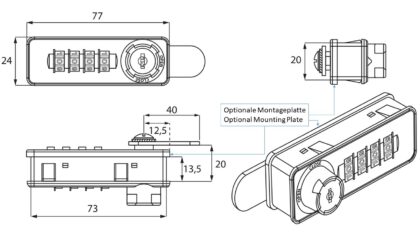 Included in delivery:
1 piece furniture combination lock
1 piece bar
1 piece screw for bolt
1 piece washer
Additional Information:
Manufacturer's reference number:
Article ID: 14.08.241-0
Article number: 14.08.241
EAN number: 5704866488327
Manufacturer: SISO Denmark